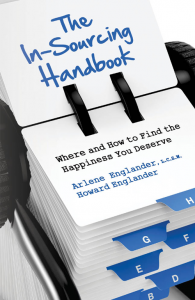 FINDING THE HAPPINESS YOU DESERVE
The In-Sourcing handbook offers you opportunities to create a daily routine for nurturing your spiritual Self, guiding you on the path to a life of joy and fulfillment. The daily exercises provide practical ways to go beyond self-imposed limitations, exploring the body, mind and spirit where the source of true happiness is found. Everything you need to achieve personal happiness resides within you.
The book is available in paperback and e-book editions at Amazon.com/books: The In-sourcing Handbook: Where and How to Find the Happiness You Deserve, by Arlene and Howard Englander.